Do you wanna know How to get free rewards in Free Fire from the new Supply Chest every day?
In this particular article, I will be telling how you can easily get FREE rewards in Free Fire from the NEW Supply Chest in the 2022 year.
Outfits, weapons, characters, and pets are just a few of the options available in Free Fire. Players compete to get as many of these as they can, as they have become a popular attraction. When it comes to purchasing new cosmetics, the cost of diamonds is always an issue.
Garena has recently implemented a new feature called Supply Chest Hideout, which allows users to earn free goodies simply by logging in every day. Additionally, the chest resets every day at 11:30 a.m. and 11:30 p.m., so there's a chance of acquiring extra goods. Any stuff received by players will be credited to their vaults.
Steps for collecting rewards from the new daily Supply Chest in Free Fire
If you want to get free prizes at random from the new Supply Chest in Free Fire every day, here's a guide to follow.
Step 1: To begin, gamers should launch Free Fire and then tap the calendar button to access the event section
Step 2: Players must then pick Supply Chest from the Hideout tab.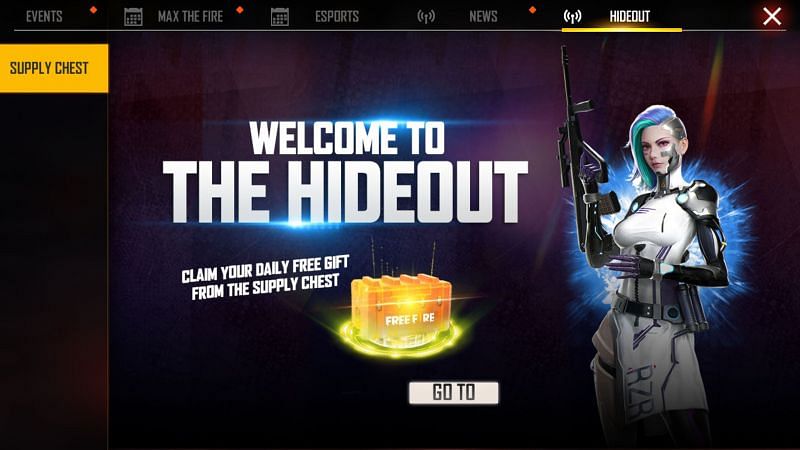 Step 3: To access the Hideout interface, users should use the 'Go To' button.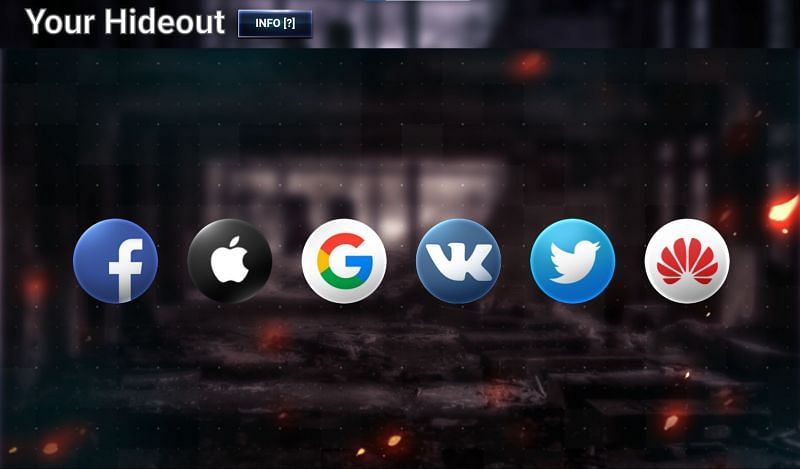 Step 4: They must sign in using one of the choices available for binding to their Free Fire ID. Facebook, Apple ID, Google, VK, Twitter, and Huawei ID are among the options.
Step 5: Users will be able to claim a free gift box from the supply chest every day after signing in.
Supply Chest Rewards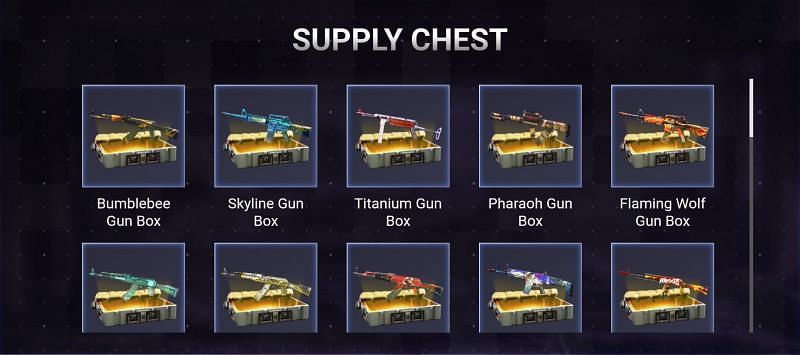 The following is a list of objects that can be obtained at random from the Supply Chest.
Bumblebee Gun Box

Skyline Gun Box

Titanium Gun Box

Pharaoh Gun Box

Flaming Wolf Gun Box

Digital Invasion Gun Box

Imperial Rome Gun Box

Red Samurai Gun Box

Shark Attack Gun Box

Booyah Gun Box

Pink Devil Gun Box

AI Gun Box

Deadly Bat Gun Box

Demolitionist Gun Box

Biker Gun Box

Urban Rager Gun Box

Graffiti Gun Box

Kpop Stardom Gun Box

Victory Wings Gun Box

Game Streamer Gun Box

Private Eye Gun Box

Master of Minds Gun Box

Gold Royale Voucher

Universal Fragment

Bounty Token

Scan

Resupply Map

Bonfire

Bonfire FF Token

Summon Airdrop
Conclusion
Garena Free Fire is an action-adventure battle royale game in which players are pitted against one another in a battle royale with only one winner at the end. Garena Free Fire is one of the most popular mobile games on the Play Store, and it is quickly becoming the most popular mobile game in the world.
Players in Garena Free Fire can choose their starting position, as well as gather weapons and supplies to expand their battlefield. It has the most internet downloads from both the Play Store and the App Store. It was created by 111 Dots Studio and has 50 participants competing in 10-minute rounds.
111 Dots studio's developers are constantly updating alpha-numeric codes to enable gamers to earn free gifts on a daily basis. The use of these codes allows players to unlock specific steps and earn various reward points.
Garena Free Fire is one of the most popular battle royale games, with millions of players all around the world. Various eSports leagues and world championships have been held by developers around the world, allowing young gamers to make a career off of this game.