Would you like to know how you can get the Ruthless Medal in COD Mobile Game in 2022 year? Then probably you've come to the exact place as I'll show you how you can easily get this Ruthless Medal in the call of duty mobile game.
First of all the RUTHLESS medal comes under the killstreak medal category in the Multiplayer section of the cod mobile game.
In this article, we'll try to tell you the easiest steps that you can follow in order to earn the ruthless medal in the CALL OF DUTY Mobile game easily.
the COD Mobile game includes BR and Multiplayer modes. Apart from the regular gameplay and player stats of a gamer, it also displays achievements, titles, and medals that show a player's credibility and skill set, and Skills.
In the call of duty game, there are about 86 medals in out of which 42 can be acquired by playing in the Multiplayer mode and 27 by playing in the battle royal mode. Players can get these by performing some specific tasks or a few series of them. The Ruthless medal is one of them that can be achieved via some grinding and patience in the game.
Get Ruthless Medal-
Now let's see what has to be done to get this ruthless medal.
Getting this medal is very easy you just need to kill 15 enemies consecutively without dying yourself in
But it is not as easy as it looks because stats have shown that only a few people have gotten the ruthless medal without any guidance.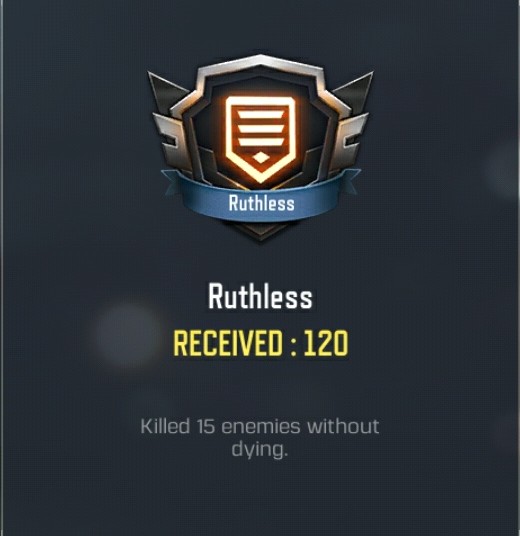 Steps to earn the Ruthless medal in CODM-
Now getting this ruthless medal is very tough as the name suggests RUTH LESS. So let's see what you can do to earn it-
Players need to select the Multiplayer Mode or MP in COD Mobile and get a squad, either with their friends or random teammates lol. This will increase the chance of surviving to obtain 15 consecutive kills in the game.

Players must select any of the available multiplayer MP maps and then start the game.

Players must be able to kill 15 enemies consecutively without dying to earn the medal

Players must equip their loadout of choice.
Earning the Ruthless medal in COD Mobile is a very difficult job for most of the codm gamers who are new to this game, as it requires solid mechanical and tactical skills along with thorough knowledge about the in-game maps.
Players can use their high-tier guns and some recoil-optimizing loadout just to maximize the chances of increasing the killstreak of enemies to 15. Operator Skills, grenades, trip mines, EMPs, may also be used to provide players the ultimate edge to gain an advantage and also accumulate more consecutive kills on the battlefield in cod mobile games.
Conclusion
Hope this article gave you a clear idea of how to achieve the RUTHLESS Medal easily in the cod mobile game.
If you have any further queries regarding the things we need to do to achieve this, please ask me in the comments and I'll try my level best to replay and help you.