In the new Season, 6 Update of COD Mobile, the game has introduced a variety of medals and achievements in-game.
These Medals can be unlocked in multiplayer and Battle Royale. With the new Undead Siege mode in Season 6 of COD Mobile, players will also unlock various medals for Zombies mode.
Among all the medals that we've in the game, the Marathon medal is one of the easiest ones to get in COD Mobile. Players have to just run around the map and complete a distance of traveling 2000 meters on the map. However, this medal can only be unlocked in Battle Royale mode on cod mobile. This medal requires literally no engagement with the enemy and therefore it is easier to complete than any other medal.
How to acquire a Marathon medal in COD Mobile?
Now let's talk about how you can easily get the marathon medal in the call of duty mobile game.
The best way to get the Marathon Medal would be to drop to the farthest point of the map in BR. You will have to loot up weapons and medkits in order to survive any enemy in the path. It would be better to stay far away from the safe zone, as then you will have to do a lot of running in order to get inside the safe zone.
Also, you've to constantly take care of your surroundings as there is always a chance of you getting shot by an enemy that might be near you.
You must be alert about when the Blue Zone is approaching as it can a lot of damage to your health in the later parts of the call of duty mobile game.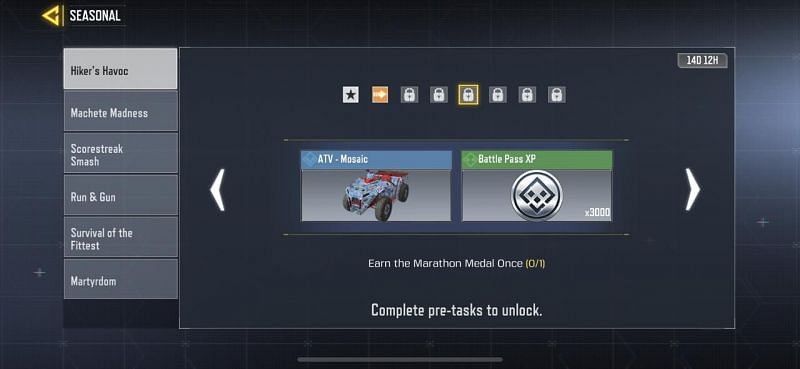 Also NEVER use any vehicles while trying to complete this mission and always keep your player in the SPRINT MODE in order to travel the maximum distance so that the Marathon Medal objective gets completed in the early minutes of the battle royal match.
It is also advised for Players to carry smoke grenades and cluster grenades, which they can drop when they come across any kind of trouble. For the classes: Trickster, Ninja, Poltergeist, and Airborne might be the best choices for completing this mission in battle royal mode.
The Marathon medal objective has to be completed in a single shot which means in a single match as the distance covered by the player on foot is never counted in total if it is less than 2000 meters or 2km. In order to complete the Hiker's Havoc challenge and unlock the operator Scout 2 - Viscous Shoal, you must get the MARATHON MEDAL in the call of duty mobile game.